"Sham" Citizen Petition Case Opinion Calls FTC's Litigation Authority Into Question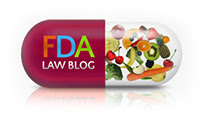 Posted: 25 Mar 2018 06:54 PM PDT
reported
on
FTC v. Shire ViroPharma
, in which the Federal Trade Commission (FTC) took the relatively unusual (although
not
unprecedented
) step of suing a brand drug company for anti-competitive use of the Food and Drug Administration's (FDA's) citizen petition process to delay generic competition. The FTC sued Shire after the company exploited FDA's petition process to an extraordinary degree, drawing pointed rebukes from FDA in response to its more than forty-six regulatory and court filings. The company's petitions, regulatory submissions, and litigation against FDA were ultimately unsuccessful on the merits, as Shire lost its legal challenges to FDA's (1) bioequivalence requirements for generic VANCOCIN, and (2) denial of 3-year exclusivity for a VANCOCIN NDA Supplement FDA approved in December 2011 (Our firm represented ANDA applicant and intervenor Akorn in that lawsuit). Nevertheless,
FTC's complaint
alleged that "ViroPharma's campaign [] succeeded in delaying generic entry at a cost of hundreds of millions of dollars to patients and other purchasers." Complaint at 2, No. 1:17-cv-00131 (D. Del. Feb. 7, 2017).
Last Tuesday, the FTC's unfair competition case against Shire took a fascinating turn that could broadly impact the FTC's authority to litigate cases in federal court. Shire
won a motion to dismiss
the FTC's complaint, but
not
based on
Noerr-Pennington
immunity, which (as we have discussed in past posts, including our initial post on this case) generally protects companies' right to petition the government for redress of grievances or to influence policy, without incurring antitrust liability. The Court found that the FTC had sufficiently pleaded the so-called "sham exception" to
Noerr-Pennington
, in which the petition at issue is "a mere sham to cover what is actually nothing more than an attempt to interfere directly with business relationships of a competitor." But the Court dismissed the FTC's complaint anyway, based on a novel interpretation of the Federal Trade Commission Act ("FTC Act");
holding that the FTC had failed to plead the facts necessary to invoke its authority to sue for permanent injunction in federal court (FTC Act
§ 13(b) (15 U.S.C.
§ 53(b))) because it did not allege an ongoing or imminent violation of the FTC Act.
The FTC's primary statutory mechanisms for seeking injunctive and other relief from entities and individuals it believes have violated the FTC Act are (1) Section 5(b) of the FTC Act, which authorizes the FTC to file an administrative complaint seeking an administrative cease and desist order, and (2) Section 13(b) of the Act, which authorizes the FTC to bring suit in federal court seeking injunctive relief. Both routes offer distinct benefits and downsides from the FTC's perspective, and it is difficult to determine
why
the FTC chooses one or the other route in any given case. For example, the FTC cannot seek restitution or disgorgement in administrative litigation (although it can pursue such remedies in federal court after a final administrative order has issued), but it benefits from procedural and institutional advantages.
Section 13(b) of the FTC Act sets forth the FTC's authority to sue for injunctive relief in cases such as
FTC v. Shire ViroPharma
as follows:
(b) Whenever the Commission has reason to believe –



(1) that any person, partnership, or corporation is violating, or is about to violate, any provision of law enforced by the Federal Trade Commission, and

(2) that the enjoining thereof pending the issuance of a complaint by the Commission and until such complaint is dismissed by the Commission or set aside by the court on review, or until the order of the Commission made thereon has become final, would be in the interest of the public

the Commission by any of its attorneys designated by it for such purpose may bring suit in a district court of the United States to enjoin any such act or practice. Upon a proper showing that, weighing the equities and considering the Commission's likelihood of ultimate success, such action would be in the public interest, and after notice to the defendant, a temporary restraining order or a preliminary injunction may be granted without bond: Provided, however, That if a complaint is not filed within such period (not exceeding 20 days) as may be specified by the court after issuance of the temporary restraining order or preliminary injunction, the order or injunction shall be dissolved by the court and be of no further force and effect: Provided further,That in proper cases the Commission may seek, and after proper proof, the court may issue, a permanent injunction.
15 U.S.C. § 53(b)(2012).

The final sentence of section 53(b) – "

Provided further,

That in proper cases the Commission may seek, and after proper proof the court may issue, a permanent injunction" – has historically been viewed as a separate grant of authority for the FTC to litigate its case against a company or individual in the first instance in federal court, regardless of whether the requirements in sections 53(b)(1) and (2) are satisfied.

See, e.g. F.T.C. v. Virginia Homes Manufacturing Corp

., 509 F. Supp. 51 (D. Md. 1981) (noting in dicta that it appears (b)(1)'s requirements do not apply to suits for permanent injunction);

see also, e.g.

,

United States v. JS & A Group, Inc.

, 716 F.2d 451, 456 (7th Cir. 1983) (holding that 53(b)(2)'s limitations on actions for preliminary injunction did not apply to the separate permanent injunction provision). The District Court in

FTC v. Shire ViroPharma

rejected this view.

The Court instead accepted Shire's argument that the statutory language authorizes FTC to "bring suit" only upon satisfying the conditions of (b)(1), and after which it "may seek" certain types of relief, including either preliminary or permanent injunctive relief. Thus, to

seek

permanent injunctive relief in federal court, the FTC must have already satisfied the requirements for

bringing suit

by alleging that the defendant – in this case ViroPharma – "is violating, or is about to violate" a law enforced by the FTC. The court further rejected the FTC's alternative argument that "is about to violate" should be read as equivalent to the general standard for awarding injunctive relief –

i.e.

that the violation is likely to recur (

see United States v. W.T. Grant Co.

, 345 U.S. 629 (1953). The Court ruled that the FTC must adequately allege an ongoing, or imminent future, violation (

see

Opinion at 10-11), and it had not done so with respect to ViroPharma.

If the District Court's statutory interpretation is accepted more broadly, it would significantly limit a statutory mechanism that the FTC has used extensively to seek injunctive and other relief in both antitrust and consumer protection actions since the 1980s. It would prevent the FTC from bringing suit in federal court for

past

violations of the FTC Act and other laws enforced by the FTC, and from seeking damages and restitution for such violations (let alone permanent injunctions) unless it can also allege an imminent future violation. With respect to past violations, the FTC would be required to first engage in administrative litigation pursuant to FTC Act § 5(b) (15 U.S.C. § 45(b)).

The Court's ruling on Tuesday is not immediately appealable, because the Court dismissed without prejudice and gave the FTC leave to amend its complaint. The Court even provided some guidance to the FTC in amending the complaint, by suggesting that facts about another Shire drug discussed at oral argument, but which did not appear in the complaint, might satisfy the "about to violate" requirements of Section 13(b)(1). The FTC therefore has the option to amend in accordance with the Court's ruling in an effort to survive dismissal, which would leave the Court's underlying statutory interpretation in place in the short term. Alternatively, the FTC could take steps to pursue an appeal, such as moving the District Court to certify the legal issue for appeal pursuant to 28 U.S.C. § 1292(b) and stay the case pending review by the Third Circuit. Given the high stakes, we would not be surprised if the FTC chose this latter option.

Last February we