While You Were Away: CDRH Announces Pilot Voluntary Quality Compliance Program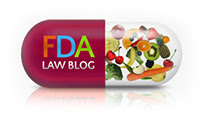 Posted: 10 Jan 2018 06:13 PM PST
FDA
recently announced its Digital Health Software Pre-Cert Pilot Program and its Premarket Approval Application Critical to Quality Pilot Program. The latest pilot program is the Case for Quality Voluntary Medical Device Manufacturing and Product Quality Pilot Program. The program was announced in the
Federal Register
.
This pilot program, like others that have come before it, intends to evaluate alternative means of assessing a device company's quality system. In this program, CDRH has collaborated with the Medical Device Innovation Consortium (MDIC) to develop a "maturity model and appraisal system," the Capability Maturity Model Integration (CMMI) system. Details regarding the CMMI system are absent from the Federal Register notice. Prospective participants would be well-advised to better understand this system prior to enrollment. Program participants will be required to perform a gap assessment using the CMMI system. In exchange,
FDA
intends to forego conducting surveillance inspections of program participants.
CDRH will select up to nine companies to participate in this program, and it began taking applications for enrollment on January 2. The program is scheduled to run through the end of 2018.
While many were on vacation and preparing to celebrate the New Year, CDRH was announcing yet another pilot program. You may recall