Trump SCOTUS Nominee is "a bioethicist"
Trump SCOTUS Nominee is 'bioethicist'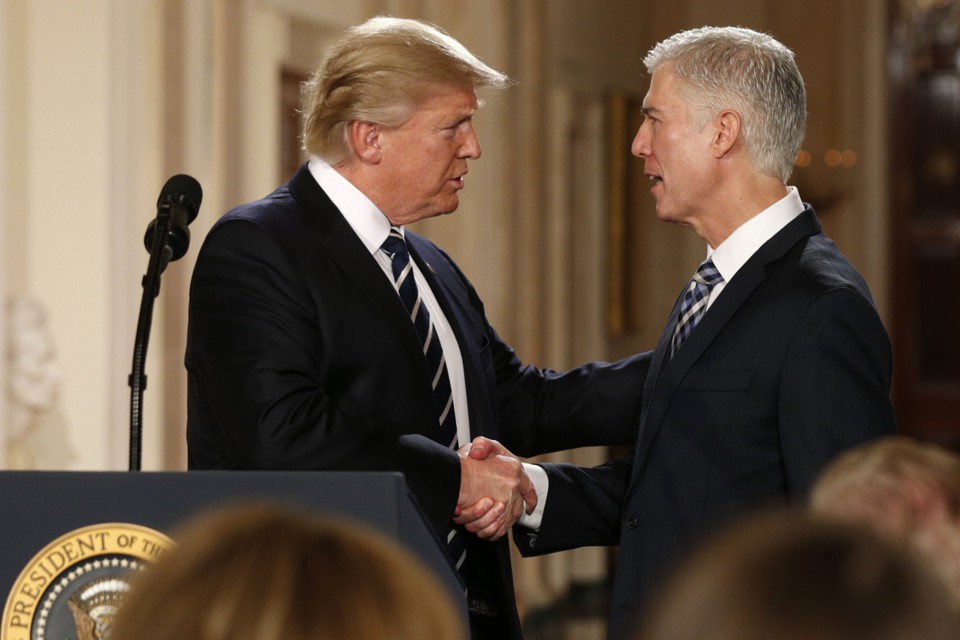 Donald Trump's new Supreme Court nominee, Neil Gorsuch, is "a bioethicist" -- at least according to
one article published after Trump's announcement
.
Gorsuch, currently a judge of the Tenth Circuit Court of Appeals in Colorado, was nominated by the President during a live television broadcast from the White House on Tuesday evening.
Gorsuch is a lawyer's lawyer who made his name at Washington DC's elite law firm Kellogg, Huber and Hansen. Yet he also has academic interests and has written extensively on end of life issues. In 2007 he published
The Future of Assisted Suicide and Euthanasia
, in which he outlined his opposition to legal assisted dying. Gorsuch has a doctorate in legal philosophy at Oxford University, which he completed under the supervision of new natural law theorist John Finnis.
Liberal commentators slammed the Gorsuch nomination, saying that he would challenge worker's rights, climate change policy and women's rights.
"Neil Gorsuch has an alarming history of interfering with reproductive health and rights", Planned Parenthood president Cecile Richards tweeted following the announcement.
Gorsuch, however, is yet to have written an opinion stating his position on abortion.
He describes himself as a textualist and an originalist. Speaking to an audience at Case Western Reserve University in Ohio, Gorsuch said that judges should use "text, structure and history" to understand what the law is, "not to decide cases based on their own moral convictions or the policy consequences they believe might serve society best."Princeton philosopher and conservative commentator
Robert George
described Gorsuch as an 'intellectual giant': "[his] combination of outstanding intellectual and personal qualities places him in the top rank of American jurists."
The assisted suicide lobby group
Compassion and Choices
has expressed particularly strong concern over the nomination, saying that Gorsuch "could seriously weaken the right of individuals to make their own personal healthcare decisions".
We have introduced a new feature in BioEdge this week. It's a new section called "
In Depth
", where we plan to feature commentary, analysis, background and interviews.
This week
Clark Hobson, of the University of Leicester, in the UK, argues
that assisted suicide has a chance of becoming law in Britain through the courts, not through Parliament. In previous cases the courts have stated that Parliament must address the ban on assisted suicide appropriately. If it does not act, the Supreme Court might find that the ban infringes Article 8(1) of the European Convention of Human Rights (ECHR).
It's an intriguing argument, one that will cheer supporters and dismay opponents of assisted suicide. Of course, Theresa May, the Prime Minister,
has vowed to make withdrawal
from the ECHR a central plank in the 2020 election, so there might not be much time...
Michael Cook
Editor
BioEdge
by Clark Hobson | Feb 03, 2017
The courts could force the government to act
BioEdge
Suite 12A, Level 2 | 5 George St | North Strathfield NSW 2137 | Australia
Phone: +61 2 8005 8605
Mobile: 0422-691-615
New Media Foundation | Level 2, 5 George St | North Strathfield NSW 2137 | AUSTRALIA | +61 2 8005 8605