Congress To DEA: Update Schedule II Partial Fill Regulations Swiftly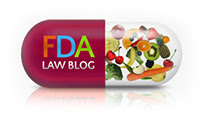 Posted: 28 Dec 2017 05:53 PM PST
bipartisan letter
to quickly update its regulations and guidance on the partial filling of schedule II controlled substance prescriptions. The letter notes that "[l]arge amounts of unused medications are a key contributor" to the nationwide opioid crisis and that between 67% and 92% of surgery patients "reported they had unused opioids remaining after the procedures." Letter from Congress of the United States, to Robert Patterson, Acting Administrator, DEA (Dec. 21, 2017).
The letter states that Congress passed the Comprehensive Addiction and Recovery Act ("
CARA
") in July 2016 in part to prevent further stockpiling of unused prescribed opioids by amending the Controlled Substances Act ("CSA") to enable patients or physicians to request that pharmacists partially fill schedule II substances that include prescription opioids and to allow remaining quantities to be filled up to 30 days after issuance of a prescription if necessary.
Prior law and current DEA regulations allow pharmacists to partially fill schedule II controlled substance prescriptions only if the pharmacy is unable to dispense the full prescribed quantity. 21 C.F.R. § 1306.13(a). Pharmacists may dispense the remaining quantity within 72 hours of the first partial dispensing and cannot dispense any further prescribed quantity beyond 72 hours thereby requiring the prescriber to issue a new prescription. 21 C.F.R. § 1306.13(a). Current regulations also allow partial dispensing of schedule II prescriptions to patients in a Long Term Care Facility or those diagnosed with a documented terminal illness. 21 C.F.R. § 1306.13(b). Pharmacists can partially fill schedule III-V controlled substance prescriptions as long as no dispensing occurs after six months from the date of issue. 21 C.F.R. § 1306.23.
CARA amended the CSA to allow for the partial dispensing of a schedule II prescription if not prohibited by state law, requested by the patient or prescriber and the total quantity dispensed in partial fillings does not exceed the total quantity prescribed. 21 U.S.C. § 829(f)(1). The amended CSA prohibits further partial dispensings later than 30 days after the prescription is written and no later than 72 hours in emergency situations. 21 U.S.C. § 829(f)(2). The letter urges DEA to "swiftly" update its regulation and guidance as pharmacists and prescribers, "critical partners in the fight against the opioid epidemic," are reluctant to comply with the amended CSA's partial dispensing provisions until the agency does so.
Obscured last week amidst the tumultuous passage of tax reform, Congress urged the Drug Enforcement Administration ("DEA") in a