ACI's 6th Annual Legal, Regulatory & Compliance Forum on Dietary Supplements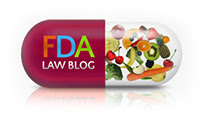 Posted: 31 May 2018 03:18 AM PDT
6th Annual Legal, Regulatory, and Compliance Forum on Dietary Supplements
. The conference is scheduled to take place in Ney York, New York from June 18-20, 2018.
This "must-attend" event for legal, regulatory, and compliance stakeholders in the dietary supplement industry will not only provide "state of the union updates," but will also allow for the opportunity to discuss and assess the politics and policy shaping the industry's current political, legislative, and regulatory atmosphere. Conference speakers will provide their insights into the most pressing topics affecting the space. In addition, FDA's Robert Durkin, Deputy Director, Office of Dietary Supplements Programs CFSAN, is scheduled to give a keynote address. Hyman, Phelps & McNamara, P.C.'s
Riëtte van Laack
will be speaking at a session titled "Unraveling the Complexities of FSMA Regulation."
FDA Law Blog is a conference media partner. As such, we can offer our readers a special 15% discount. The discount code is:
P15-999-FDAB18
. You can access the conference brochure and sign up for the event
here
. We look forward to seeing you at the conference.
The American Conference Institute ("ACI"), together with the Council for Responsible Nutrition, are sponsoring ACI's