Sale of E-Cigarettes to Minors Prompts FDA to Light a Fire under the Industry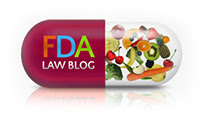 Posted: 30 Apr 2018 09:29 PM PDT
statement
regarding new enforcement actions and a Youth Tobacco Prevention Plan aimed to help stop minors from using e-cigarette products.
Under the Family Smoking Prevention and Tobacco Control Act ("Tobacco Control Act"), a "tobacco product" is defined as "any product made or derived from tobacco that is intended for human consumption, including any component, part, or accessory of a tobacco product." The Tobacco Control Act gave FDA the express authority to regulate cigarettes, cigarette tobacco, roll-your-own tobacco, and smokeless tobacco. Any other "tobacco product" could be regulated by FDA only if the Agency issued regulations "deeming" such products to be subject to the Tobacco Control Act. As discussed in our
previous post
, on May 10, 2016, FDA published the final "deeming regulation" asserting authority over all tobacco products meeting the broad statutory definition of a "tobacco product." This authority extends to electronic nicotine delivery systems (ENDS), which may be described with terms such as vapes, vaporizers, vape pens, hookah pens, e-cigarettes, or e-pipes. ENDS products typically use a liquid ("e-liquid") that contains nicotine. This e-liquid is heated into an aerosol that can be inhaled by the user. ENDS products may be manufactured to look like traditional tobacco products or may resemble items such as pens or USB drives.
FDA cites the following CDC statistics regarding the use of ENDS products by minors:
More than 2 million middle and high school students were current users of e-cigarettes in 2016
11% of high school and 4.3% of middle school students were current users of e-cigarettes in 2016
E-cigarette use rose from 1.5% to 16.0% among high school students and from 0.6% to 5.3% among middle school students from 2011 to 2015
We have previously discussed FDA's comprehensive plan for tobacco and nicotine regulation announced last July (

here

). FDA's most recent enforcement activity is more narrowly focused on the use of ENDS products by minors, and singles out one ENDS product in particular. In its April 24 statement, FDA outlined a series of enforcement and regulatory steps.

First, FDA announced that on April 6, 2018 it initiated a large-scale, undercover, nationwide blitz that will continue until the end of April 2018. This blitz focuses on the sale of e-cigarettes (specifically products under the JUUL brand) to minors at both brick-and-mortar and online retailers. The Agency's efforts have already revealed numerous violations according to the FDA. This blitz, in addition to other compliance checks, has resulted in FDA issuing

40 warning letters

for the illegal sale of e-cigarettes, specifically JUUL products, to minors.

Second, FDA contacted eBay regarding several listings for JUUL products on the website. According to FDA, eBay removed the listings and voluntarily implemented measures to prevent against re-listing of the items. It is possible that other online retailers with e-cigarette products, specifically JUUL products, may receive similar communications from the Agency.

Third, on April 24, 2018, FDA sent an

official request for information

to JUUL Labs, requesting the company submit information, such as documents related to product marketing; research on the health, toxicological, behavioral or physiologic effects of the products, including youth initiation and use; whether certain product design features, ingredients or specifications appeal to different age groups; and youth-related adverse events and consumer complaints associated with the products. FDA is planning on sending additional letters to other manufacturers and has asserted that companies that do not comply will be in violation of the law and subject to enforcement.

Fourth, the Agency announced that it is planning to take enforcement actions against companies that are marketing products in a way that is misleading to minors.

Finally, FDA is also continuing its efforts on science-based campaigns to educate minors about the dangers of all tobacco products, including e-cigarettes.

FDA Commissioner Gottlieb makes clear the focus of the Agency is ENDS products marketed and sold to minors. For adults, FDA believes that ENDS products may offer a potentially lower risk alternative for adult smokers, providing them with access to nicotine without the additional risks associated with the combustion of tobacco. However, the Agency states the viability of ENDS products serving this purpose is undermined if they attract minors.

The steps outlined above are just the first of those the FDA plans to pursue as part of the Youth Tobacco Prevention Plan, and additional steps will be announced in the future. FDA's message to all tobacco product manufacturers and retailers is clear: the Agency is watching closely.

On April 24, 2018, FDA released a