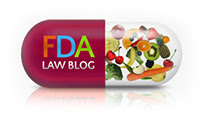 Latest FDLI Update Magazine Article Explains DEA Preregistration and Cyclic Inspections
Posted: 12 Dec 2017 07:01 PM PST

The Drug Enforcement Administration ("DEA"), in response to the nationwide controlled pharmaceutical diversion and abuse crisis, now conducts more frequent regulatory inspections in greater depth to identify registrants who violate the Controlled Substances Act and implementing regulations. In addition to inspecting and auditing manufacturers, distributors, importers, exporters, and narcotic treatment programs, DEA diversion investigators now inspect pharmacies, hospitals and practitioners. These were registrants that historically had not been subject to scheduled inspections. Registrant noncompliance disclosed during a DEA inspection can lead to significant administrative, civil and even criminal consequences.