MMWR Weekly
Vol. 66, No. 49


December 15, 2017
State Laws Regarding Indoor Public Use, Retail Sales, and Prices of Electronic Cigarettes — U.S. States, Guam, Puerto Rico, and U.S. Virgin Islands, September 30, 2017
Kristy Marynak, MPP; Brandon Kenemer, MPH; Brian A. King, PhD; et al.
Health and Development at Age 19–24 Months of 19 Children Who Were Born with Microcephaly and Laboratory Evidence of Congenital Zika Virus Infection During the 2015 Zika Virus Outbreak — Brazil, 2017
Ashley Satterfield-Nash, DrPH; Kim Kotzky, MPH; Jacob Allen, MPH; et al.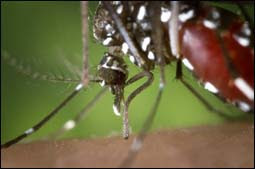 Aedes aegypti is the main vector of Zika virus.