KNAUER joins UN Global Compact initiative for responsible corporate governance

KNAUER joins UN Global Compact initiative for responsible corporate governance
On February 19, 2018, the Berlin-based manufacturer of high-tech laboratory instruments underlines its commitment to responsible corporate governance on an international level.
The UN Global Compact is the world's largest and most important initiative for responsible corporate governance, involving more than 12,800 companies and organizations from more than 160 countries, 454 of them from Germany. The vision of this United Nations-led initiative is a sustainable and inclusive global economy based on ten universal principles, including human rights, labor standards, environmental protection and corruption prevention.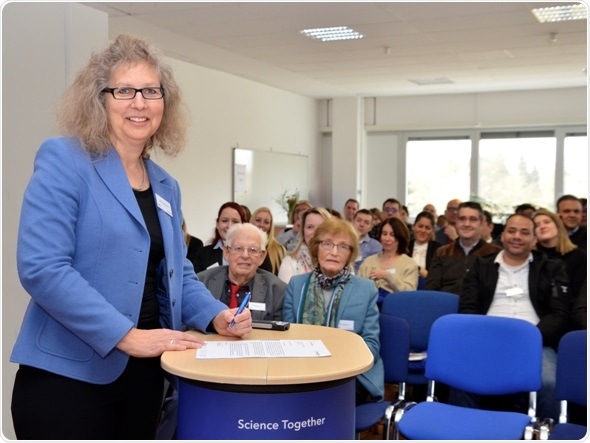 Alexandra Knauer signs the UN Global Compact commitment
Managing director and owner Alexandra Knauer signed the commitment letter to adhere to the ten principles of the Global Compact in the presence of about 70 cooperation partners of the company. The "International Dealers Meeting 2018" taking place at the company's location in Berlin formed the appropriate international and festive setting. The letter is personally addressed to UN Secretary-General António Guterres.
Corporate responsibility and sustainability have a long tradition at KNAUER. For example, in 2002 the company donated forty roadside trees to the district of Zehlendorf in Berlin, after a storm had previously caused great damage. As part of a pilot project in 2010, KNAUER began to develop Corporate Social Responsibility (CSR) systematically and has been taking it into account since then. In order to progress its ecological responsibility even more, KNAUER has introduced an environmental management system in accordance with ISO 14001 in 2011.
"Entrepreneurial success and sustainable action are not contradictory, I am firmly convinced. When we start with ourselves, it almost automatically also has a positive effect globally", says managing director Alexandra Knauer. "In a current project called Bye-Bye Plastic, we have introduced soda makers and small glass bottles for tap water that make it easy for our employees to refrain from disposable plastic bottles."
From now on KNAUER will document its Sustainable Development Goals (SDG) activities in an annual progress report, which will also be published on the UN Global Compact website.
Through public communication of its ongoing sustainable activities, KNAUER aims to inspire more companies to also implement sustainable and inclusive goals. By discussing with other members of the UN Global Compact, KNAUER also hopes to gain new impulses and ideas for its own actions.