Proposed Legislation to Reform the OTC Drug Monograph System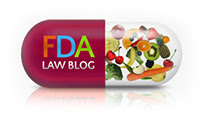 Posted: 31 Jan 2018 09:21 PM PST

As readers of this blog know, the current monograph system, which was implemented in 1972, has received criticism and there have been several efforts to revise the system. Drawbacks include the slow rulemaking process (many OTC drugs are marketed under incomplete monographs), the inability to swiftly and promptly address safety issues, and barriers to innovation (eligibility is largely limited to active ingredients that were marketed before 1972). In addition, FDA has

asserted

that it lacks the resources to effectively regulate the OTC monograph products.

The proposed bill is intended to speed up the slow time-consuming regulatory procedures by introducing the administrative order process to replace the current rulemaking procedures. It provides options for manufacturers to request administrative orders and for FDA to initiate administrative orders on its own initiative as well as in response to a citizens' petition.

The bill would also establish a process for the introduction of new OTC products that are marketed without an approved New Drug Application. Under certain circumstances, such drugs would be subject to two-year exclusivity period.

The bill includes provisions that would provide FDA with the authority to take rapid action in event of safety issues with OTC drugs. It would also require that FDA evaluate the cold and cough monograph with respect to children under the age of six and report annually to Congress on the progress of this evaluation.

Importantly, the bill provides FDA with the authority to collect user fees to help cover much of the costs of the updated regulatory system and provide the necessary resources to evaluate and monitor the market.

Other than the two-year exclusivity provision, the proposed bill is similar to previous proposals.

See, e.g., Over-the-Counter Monograph Safety, Innovation, and Reform Act of 2017

, authored by representatives Bob Latta (R-OR), Diana DeGette (D-CO), Chairman Burgess, Vice Chairman Brett Guthrie (R-KY), Ranking Member Gene Green (D-TX), and Rep. Debbie Dingell (D-MI).

We will be monitoring further developments.

On January 17, 2018, in an effort to overhaul the regulation of over-the-counter (OTC) monograph drugs, U.S. Senators Johnny Isakson and Bob Casey introduced bipartisan legislation, the Over-the-Counter Drug Safety, Innovation, and Reform Act, S.2315.