USDA and FDA Announce Intent to Improve and Increase Coordination and Collaboration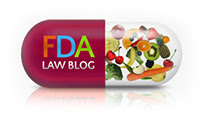 Posted: 04 Feb 2018 07:43 PM PST
announced
that they had signed a
formal agreement
to make the coordination and collaboration between the two agencies more efficient and effective.
The USDA has jurisdiction over most meat, poultry, catfish, and certain egg products whereas FDA has jurisdiction over all other foods such as dairy, seafood, produce and packaged foods. Over the years, the two agencies have worked together and made agreements about information sharing, e.g., a Memorandum of Understanding (MOU) from 1999 concerning information sharing about establishments and operations that are subject to
dual jurisdiction
and an
MOU from 2000
concerning review of ingredients intended for use in products under USDA jurisdiction.
The purpose of the January 30, 2018 formal agreement is to "document and formalize ongoing coordination and collaborative efforts between the USDA and the FDA relative to issues of shared concern." The agreement specifically calls out the issues of dual-jurisdiction facilities, produce safety, and the regulation of biotechnology products. As far as dual jurisdiction facilities are concerned, "USDA and FDA share the goals of identifying and potentially reducing the number of establishments subject to the dual regulatory requirements of USDA and FDA, bringing greater clarity and consistency to jurisdictional decisions under USDA and FDA's respective authorities, including transition period, and decreasing unnecessary regulatory burdens." Although this likely comes as good news for such facilities, the agreement seems to be a statement of intent and does not provide details as to how the agencies anticipate accomplishing their goals.
On January 30, 2018, Dr. Gottlieb of FDA and Secretary Perdue of the USDA