Well, This is "Apeeling!" FDA Updates Orange Book With Patent Submission Dates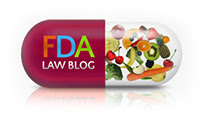 Posted: 27 Nov 2017 05:57 PM PST
Last week

FDA

formally announced yet another transparency initiative – this time, it's the inclusion of patent submission dates in the Orange Book! (

FDA

informally announced the change a couple of weeks ago with a note in the Orange Book stating: "Effective November 21, 2017, the Orange Book search results and drug listings will display patent submission dates where available.") In accordance with

FDA

's October 2016 final rule implementing portions of the 2003 Medicare Modernization Act ("MMA"),

FDA

has decided to publish this information in the Orange Book prospectively. (That being said,

FDA

began patent submission date data collection in 2013, and the newly updated Orange Book includes patent submission dates since then.) According to

FDA

's press release announcing the change, the data are intended to "help generic manufacturers determine the earliest date when they may be able to market new generic medicines."
This is a big – and important – change to the Orange Book. Now applicants will have a much clearer picture on timely listed patents and whether listed patents indeed require certification. Knowing the submission date will also help clarify whether a listed patent will trigger a 30-month patent litigation stay, otherwise delay approval of a pending application, or require a carve-out.
Previously, patent submission date information was available only by contacting the Orange Book Staff. This made it difficult for generic companies to determine if a patent was late-listed, relisted, or properly listed, and therefore difficult to know whether an ANDA applicant needed to include a patent certification or needed to update an application with an amended certification. All this information should be a lot clearer with this development. Hopefully, this will streamline the process for generic drug manufacturers and cut down on some work for the Orange Book Staff.
Like any other corrections to the Orange Book, NDA holders should contact the Orange Book staff with any correction requests (with justification).
As noted, this new information is only published on a prospective basis, and going back to 2013 when
FDA
began collecting patent submission date information. That means there are about 4,000 patent records for which submission dates are available and that are now published in the Orange Book. For the remaining thousands of patents without a published patent record, interested parties will still have to reach out to
FDA
for patent submission information.
The Association for Accessible Medicines ("AAM") recently submitted
extensive comments
to
FDA
in response to the Agency's June 2017 Federal Register
Notice
on "Administering the Hatch-Waxman Amendments: Ensuring a Balance Between Innovation and Access." Among AAM's litany of suggested changes and improvements is a request that
FDA
update the Orange Book with more comprehensive patent information:
Knowing whether patent information is timely submitted to

FDA

for Orange Book listing is information critical to ANDA applicants. For example, a company with a pending ANDA is not required to certify to new patent information listed in the Orange Book if such patent information is listed more than 30 days after patent issuance, or more than 30 days after a relevant approval under an NDA making a previously issued patent listable.



FDA

should amend the Orange Book to include a new column in the "Patent and Exclusivity List" that identifies the date on which a particular patent was considered listed in the Orange Book. Supplying such information in a readily accessible document would avoid companies and their representatives having to send multiple requests to

FDA

to supply such information, and should immediately clarify for ANDA applicants whether a patent is timely listed and must be addressed in a patent certification.
With
FDA
's recent announcement on Orange Book patent submission date information, that's one item
FDA
and AAM can check off the list of improvements.