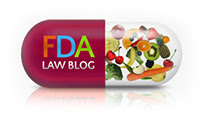 Posted: 21 Nov 2017 07:29 PM PST
The Food and Drug Law Institute's ("FDLI") Enforcement, Litigation, and Compliance Conference is just a few weeks away, and spaces are going fast! The two-day conference will be held on December 6-7, 2017, in Washington, D.C. Hear from new government officials, including Rebecca Wood, the new Chief Counsel for FDA, and Ethan Davis, the newly appointed Deputy Assistant Attorney General, Consumer Protection Branch, US Department of Justice.
Attendees will:
Explore the latest enforcement action trends in food, drugs, biologics, medical devices, and tobacco
Gain practical tips and best practices for responding to enforcement action by FDA or other government agencies
Learn how to comply with new and upcoming FDA rules and regulations
Hear from FDA's Center Compliance Directors on priorities for 2018 and from ORA on the status of Program Alignment.
Hyman, Phelps & McNamara, P.C.'s
Anne K. Walsh
will present on enforcement issues throughout the supply chain. View the full agenda at
here
and register using the discount code,
save10
.
Posted: 21 Nov 2017 07:28 PM PST
The American Conference Institute's Legal, Regulatory, & Compliance Forum on Controlled Substances is scheduled to take place in Washington, D.C. from January 29-31, 2018.
Esteemed, top-notch faculty speaking at the conference include current and former officials from the DEA and FDA, representatives from State Attorney General and U.S. Attorney Offices, as well as high-level in-house executives, and top outside counsel. Conference speakers will provide their insights into the most pressing topics affecting the space such as:
Reassessing your Responsibilities in Light of the Changing Scope of Suspicious Order Monitoring Requirements
Evolution of Abuse-Deterrent Opioid Drug Products
Understanding and Comparing State Prescription Drug Monitoring Programs
Diving into the State, County, and City Opioid-Related Investigations
Hyman, Phelps & McNamara, P.C.'s
John A. Gilbert, Jr.
will be speaking at a session titled "Overcoming Challenges for Schedule III Opioids and Non-Opioid Products," and will be moderating a panel discussion, titled "Politics and Policy of Controlled Substances in View of the Opioid Overdose Crisis."
FDA Law Blog is a conference media partner. As such, we can offer our readers a special 10% discount. The discount code is:
P10-999-FDAB18
. You can access the conference brochure and sign up for the event
here
. We look forward to seeing you at the conference.